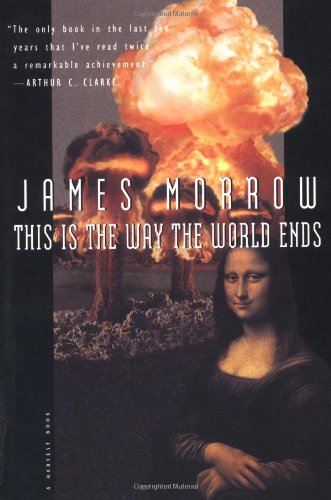 Nebula Award Finalist
John Campbell Award Finalist
BBC Critics Choice
THIS IS THE WAY THE WORLD ENDS
In 1995, George Paxton is an ordinary American living an ordinary life in an ordinary town. Content as a tombstone carver and family man, George lacks only one thing: a fashionable "scopas" survival suit–complete with sanitary facilities and a Colt .45–to protect his daughter in the event of nuclear war.
Then, through a twist of fate, George secures the coveted suit, a deluxe golden model, for the price of a mere signature. Unfortunately, what he signs proves to be a diabolical pact affirming his complicity in the escalating arms race, and as the war that could never happen happens, George is whisked into the past and the future to face the consequences of his actions.
* * *
A COMMENT BY THE AUTHOR
At first blush, a critic might bracket This Is the Way the World Endswith other post-holocaust fiction. From Alas, Babylon through A Canticle for Leibowitz to Riddley Walker, this genre has commonly styled itself an avatar of hope. My goal lay elsewhere. I began with the assumption that most people would prefer to exercise hope before the warheads arrive. I wanted to speak for victims, not celebrate survivors.
Even the most elaborate nuclear exchange would probably fail to extinguish Homo sapiens. Some of us will muddle through. In This Is the Way the World Ends, though, I decided to use self-extinction as a metaphor for the legions who won't make it. It's all very well to valorize our species's undoubted resilience, but a mass grave is hardly a fit monument to such sentiments.
Reading Jonathan Schell's The Fate of the Earth., I was particularly impressed by one line: "The right vantage point from which to view a holocaust is that of a corpse." It struck me that most nuclear-war fiction is really a kind of pornography, inviting us to identify with winners while the losers, the corpses, drop away. So how might a novelist assume the vantage point of the dead? Through recourse, I reasoned, to the tools of speculative fiction. Eventually I hit upon the conceit of "the unadmitted," the generations whose births were canceled by the extinction. I gave them flesh and a temporary lease on life.
Reprinted from SFWA Bulletin
"The most affecting account of nuclear devastation I have read in a work of fiction."
–Frank Kelly
Newsday
"Having no answers but only prophecy, Morrow is unafraid to feel pain or to make us feel it … Astute, highly engaging, and finally, moving."
–Richard Eder
Los Angeles Times
"If Kurt Vonnegut had collaborated with Jonathan Schell on an antinuclear novel, the result might be This Is the Way the World Ends."
–Gerald Jonas
New York Times Book Review
"This Is the Way the World Ends begins where Dr. Strangeloveends. It is a tale told from the other side of the grave–quite literally from the point of view of the dead–and what makes it so wonderful is not merely that it is informed about how and why the world may end, but because throughout it remains a true tale, rich in narrative and moral complexity, magically inventive and comic … This Is the Way the World Ends defies genre. It is science fiction the wayGulliver's Travels is science fiction, fantasy the way John Collier'sFancies and Goodnights is fantasy, satire in the way George Orwell's 1984 is satire. It is also profoundly and grimly comic in the way Thomas Berger's novels are comic. Which is only to say thatThis Is the Way the World Ends is a unique mix of science fiction, satire, fantasy, and comedy–a gorgeously crafted and insanely funny tale about mortal and ghostly matters. It is a fable for our times, yes, but (except in a few of the too-lengthy trial sections) rarely moralistic or heavy-handed … James Morrow is an original–stylistically ingenious, savagely funny, always unpredictable. He has written a story of the way and the why of our dear and foolish world–its sources of life and of death–that is utterly dazzling and memorable."
–Jay Neugeboren
Philadelphia Inquirer
"Add to this scenario great suspense, fast action, a complex and sympathetic protagonist, and unrestrained black comedy, and the result is a wonderfully surreal novel worthy of comparison with the best political satire of this century … Everyone should read this book: pacifists, moderates, militarists, and especially the uncommitted."
–John A. Zurlo
Forth Worth Star-Telegram
"Very few books make me cry, but this one did … James Morrow has a surrealistic edge to his imagination and a devastating ability to disembowel by satire."
–Richard Geis
Controversy in Review
"This novel is a telling indictment of apathy, alternately nightmarish and funny, and immaculately written throughout."
–John Shirley
Utne Reader
"Just when you start thinking that everything that can possibly be done with the post-catastrophe novel had been done, along comes James Morrow to prove you wrong … This Is the Way the World Ends is a magnificent surrealistic dark comedy that will scare you even as it amuses you, and it will leave you deeply moved. This is one of those books that other writers wish they had written."
–Barbara Paul
Pittsburgh Press