* * *
Listen to an Excerpt from the Audiobook, Narrated by Anna Parker-Naples
* * *
WHAT THE CRITICS SAID
"The heroine of Galápagos Regained is a young actress named Chloe Bathurst, another of Morrow's brilliant female characters caught in the confluence of intellectual revolution … Glittered with allusions to Herman Melville, Joseph Conrad and Jules Verne, Chloe's journey is a compendium of every possible disaster, leavened with a Gilbert & Sullivan sensitivity … Despite Morrow's confirmed atheism and his gleeful mockery of religious fundamentalism, in Chloe he's created a character capable of surprising spiritual mutation. Having seen and survived so much, can she argue that everything — every gorgeous, dazzlingly inventive creature — is merely "the accidental efflux of an indifferent machine"? That's a question for the Shelley Society to decide, but the creator of Galápagos Regained has revealed a divine comedy."
Ron Charles
Washington Post
"This eventually leads [the heroine] off on a bizarre series of adventures to the Galápagos, involving storms, shipwrecks, a wild woman castaway, the South American rubber wars, an airship, a hidden tribe of Peruvian Indians who have built a replica of Noah's Ark, and a love-smitten cleric — all while racing against another expedition trying to find the real Noah's Ark, and yet another determined to exterminate all the species on the Galápagos Islands that might lend credence to Darwin's theories. Add in some time-traveling scientists from the future, and you have one of the most utterly strange and enjoyable mock-heroic quests of recent years."
Gary K. Wolf
Chicago Tribune
"Galápagos Regained is the latest novel by wildly inventive and subversive author James Morrow. It reads like Indiana Jones meets Jane Goodall on a world-spanning escapade that includes everything from shipwrecks and airships, to hookah-based time travel, and two lost arks … Morrow has certainly tackled the subjects of science and religion before, but never quite as whimsically or anarchically as he does here, crafting a novel as hilarious as it is thought-provoking. Galápagos Regained holds nothing sacred but life, and its madcap, twist-fueled momentum makes it an unexpected delight."
Glenn Dallas
San Francisco Book Review
"Let me just say that the following paragraph is meant in the best possible way: This book is ridiculous. Absolutely nutter-butters, run-up-the-wall crazy. I can't believe I read it. I can't believe this is an actual book that exists in this world. I have never read anything like this, and I don't expect to ever again .. And that is endearing as hell. I can't tell you the last time I read a book that constantly surprised me, that went against everything I ever expected from it. I can't tell you the last time a book just took me on a God damn adventure … It's an energetic trip through philosophy, geography, and psychology that dives into the depths of the atheist vs. Christian debate and then soars upwards with an expansive vocabulary, and an even bigger sense of adventure!"
Brandon Scott
Sci-Fi Bloggers
"The more you know about the intellectual history of the period, the funnier Galápagos Regained becomes … Morrow spins his novels in a domain situated somewhere between strict alternative history of the Harry Turtledove school, magic realism, and farce. Great thinkers and principal ideas of a pivotal historical period are portrayed honestly, given their due, then braided together in mad ways … It's intellectual comedy of a high, high order. Readers who cherished Morrow's Only Begotten Daughter, The Last Witchfinder, or The Philosopher's Apprentice will find much to savor in Galápagos Regained."
Tom Flynn
Secular Humanist Bulletin
"What we are treated to in this novel is a thorough examination of human motivation in the face of shifting paradigms. It may be clear where his sympathies lie, but [Morrow] is too good a writer to load the dice in favor of his preferred viewpoint. He gives his characters their own and follows them where they would naturally lead. He never denigrates faith, only the fickleness of our intentions in the face of conflicting desires and awkward choices. Tempting as it may have been in the end to simply declare a winner, Morrow instead takes a more difficult and fulfilling tack by portraying the times in which this debate flared into full flame with the advent of a solid theory of evolution."
Mark W. Tiedemann
The Proximal Eye
"Even readers who've been impressed for decades by the marvelously acerbic science fiction James Morrow has been writing all along will be surprised and impressed by his latest work, a big fat historical novel called Galápagos Regained that has all the hallmarks of being a lifetime masterpiece. The intelligence and searching inquiry of Morrow's weird previous books is here in its usual abundance, but this time around it's matched by a kind of rhetorical plenitude that tends to happen when a writer settles down to write That Book … This book is an unapologetic romp of ideas, all filtered through a Candide manqué who might grow tiresome to readers of brisker expectations when it comes to things like unified plot structure and the like. Or perhaps it'll inspire those readers to, as it were, evolve."
Steve Donoghue
Open Letters Monthly
* * *
ADVANCE PRAISE
"James Morrow's madcap brilliance and exuberant erudition are on the move again, and Galápagos Regained is a triumph. It's an adventure story that's not only bursting with page-turning plot but with dangerous ideas of the very best kind. Riding the wild narrative waves … is an exhilarating experience that is not to be missed."
Rebecca Newberger Goldstein
author of 36 Arguments for the Existence of God: A Work of Fiction
"Galápagos Regained reads like a riotous conflation of Candide and Around the World in 80 Days. By turns harrowing, hilarious, and thought-provoking, the adventures of Darwin's zookeeper, the fictional Chloe Bathurst, make for a delectable historical epic."
Paolo Bacigalupi
Hugo and Nebula Award-winning author of The Windup Girl
"James Morrow's uncanny genius for creating imagined worlds within historical ones finds its full flowering in Galápagos Regained. In Chloe Bathurst, sometime assistant to Charles Darwin, the author has created one of his most memorable characters … Erudite, hilarious, prodigiously inventive on every page, Galápagos Regained is simply intoxicating in its originality and wisdom."
Bradford Morrow
author of The Forgers
"A witty and wisecracking Victorian adventure, an Indiana Jones caper with Charles Darwin lurking in the wings, as if Jules Verne was retold by Tom Stoppard. Rollicking, preposterously enchanting, and—as with all of Morrow's work—cagily profound."
Wilton Barnhardt
New York Times bestselling author of Lookaway, Lookaway
"In previous novels, Morrow … has proven a master at combining rollicking adventure and sly, bawdy humor with attention to ideas and a skewed look at history … There's a plotline in this hilarious story, but it's a picaresque novel. Who's to complain if the author digresses a little—well, a lot! VERDICT: It's almost a crime for a novel to be as much fun as this one is."
Library Journal (starred review)
"[A] comic blend of Victorian science colliding with Christian faith as greedy folks enter the Percy Shelley Society's "Great God Contest" to win a hefty cash prize if they can either prove or disprove the existence of God … [This] complex tale is a round-the-world romp of improbable but delightful fun and harrowing adventures, a cross between Phileas Fogg and Lara Croft."
Publishers Weekly
* * *
CAN YOU PROVE OR DISPROVE
THE EXISTENCE OF GOD?
FOUNDED IN 1848, THE PERCY BYSSHE SHELLEY SOCIETY
WILL PAY A CONTESTANT £10,000 POUNDS FOR SUCH A
CONFIRMATION.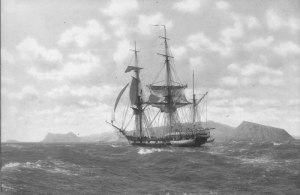 FROM ENGLAND TO THE COAST OF BRAZIL BY BRIGANTINE…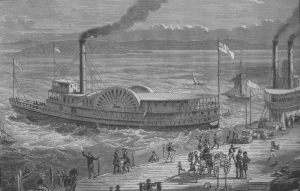 THEN UP THE AMAZON BY PADDLEWHEEL STEAMER…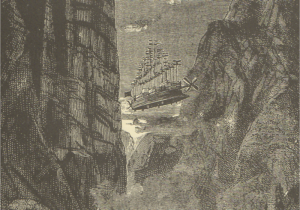 AND OVER THE ANDES IN A FLYING MACHINE…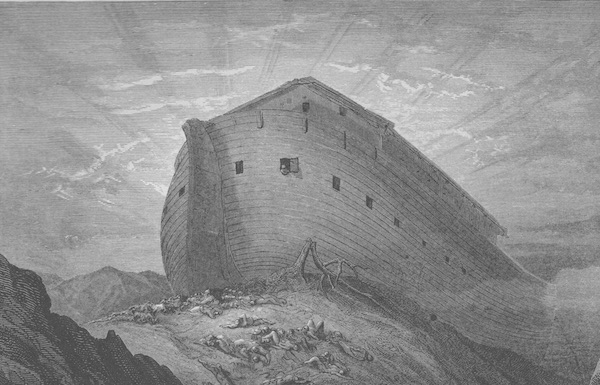 THEN ONWARD TO THE GALÁPAGOS ISLANDS ABOARD
A REPLICA OF NOAH'S ARK…
CHARLES DARWIN'S ZOOKEEPER, THE INTREPID CHLOE
BATHURST, WILL STOP AT NOTHING TO WIN THE PRIZE!