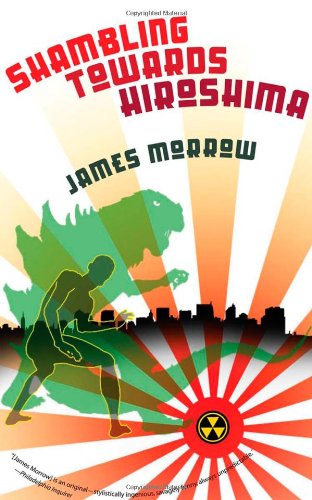 The summer of 1945. Nazi Germany has surrendered, but the war in the Pacific rages with no end in sight. Until recently, B-movie actor Syms Thorley has managed to stay out of the conflict, pursuing his career portraying Corpuscula (reminiscent of Frankenstein's creation), Kha-Ton-Ra (the living mummy), and other beloved Hollywood monsters. But the U.S. Navy has a new part in mind for Thorley—the role of a lifetime, in fact.
The top secret Knickerbocker Project has produced the ultimate biological weapon: a generation of gigantic, bipedal, fire-breathing mutant iguanas engineered to destroy entire cities. Appealing to Thorley's patriotism, the military convinces him to don a rubber "Gorgantis" suit, appear before a Japanese delegation, and—by stomping on a miniature Nipponese metropolis—reveal the destructive power of the horrendous lizards. If the demonstration succeeds, the ambassadors will probably convince the Emperor to surrender. But if it fails, tens of thousands of lives will be sacrificed to the dawning Lizard Age.
* * *
James Morrow discusses Shambling Towards Hiroshima on the cable television series Fast Forward: Contemporary Science Fiction, hosted by Mike Zipser:
Chris Morrow interviews his father about collecting movie memorabilia, appreciating classic Hollywood horror films, and understanding the political significance of Godzilla:
* * *
WHAT THE CRITICS SAID
In the tradition of Dr. Strangelove, James Morrow's short novel couches serious questions about war in a seemingly absurd plot, making Shambling Towards Hiroshima sure to provoke discussion. It's funny in the way the best satires are funny: even as you're laughing you're not sure you should be. Another unique book from the World Fantasy Award-winning author of Towing Jehovah.
Jeff VanderMeer
Omnivoracious
"Thorley's memoir is both funny and touching, and ends as an impassioned plea for global sanity. Few authors could successfully combine politics, humour and the line, 'We can thank our lucky stars that Hitler never got the lizard,' but Morrow pulls it off with aplomb."
Keith Brooke
The Guardian
"[The hero] describes himself by this stage in his life as 'pompous and didactic,' reduced to lecturing SF fans on the dangers of weapons of mass destruction … Momentarily, it looks like Morrow is making the same mistake as his fictional creation, and that what should be an entertaining piece of whimsy is about to take a misguided detour into portentous and melodramatic territory. Fortunately, this temptation is deftly avoided, ensuring that Shambling Towards Hiroshima retains its charm to the end.
Michael Froggat
Strange Horizons
"Morrow liberally salts the yarn with real Hollywood horror-movie personnel, Jewish showbiz snark, and gut-wrenching regret for the bomb. As usual for Morrow, a stellar performance."
Booklist
"Sharp-edged, delightfully batty … skillfully mingling real and imaginary characters with genuinely hilarious moments."
Kirkus Reviews
"The sheer insanity of the premise only makes the eventual payoff even more powerful … [Morrow] never loses sight of the need to make his characters fascinating and real.
Publishers Weekly
"James Morrow's bizarrely funny new book Shambling Towards Hiroshima turns the usual Godzilla paradigm on its head: Instead of being inspired by the horrors of nuclear war, Godzilla is its herald."
io9.com
"Readers will never think of Godzilla—or any other B-movie monster—in quite the same way, that's guaranteed."
Green Man Review
"A ridiculously fun read … pitch-perfect satire."
Fantasy & Science Fiction
"This is what we have come to expect from Morrow: intelligent, thoughtful, dark comedy with real bite—and in this case radioactive breath."
New York Review of Science Fiction