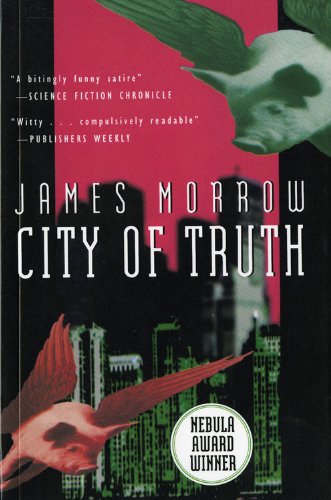 Nebula Award
Rocky Mountain News Unreal Worlds Award
In Veritas, the City of Truth, people have been brutally conditioned to always tell the truth, no matter how unnerving (or droll) the truth may be. It will come as no surprise, then, that elevators in Veritas carry the notice "THIS ELEVATOR MAINTAINED BY PEOPLE WHO HATE THEIR JOBS. RIDE AT YOUR OWN RISK." Or that cigarette packs say "WARNING: THE SURGEON GENERAL'S CRUSADE AGAINST THIS PRODUCT MAY DISTRACT YOU FROM THE MYRIAD WAYS YOUR GOVERNMENT FAILS TO PROTECT YOUR HEALTH."
Jack Sperry leads a rather routine life as a "deconstructionist," destroying "mendacious" old works of art, until his beloved son, Toby, is bitten by a rabbit at Camp Ditch-the-Kids and contracts a rare disease. Jack must now somehow learn to lie if, as he believes, only falsehoods can give Toby enough hope to effect a cure.
A COMMENT BY THE AUTHOR
City of Truth traces to a short story, "Veritas," that I wrote for George Zebrowski's anthology series, Synergy. In that particular yarn, I systematically delineated the concept of a truth-telling dystopia, but shortly after its publication I began to feel that the premise deserved something beyond the spy-thriller plot I'd erected. When my then-current British editor, Deborah Beale, invited me to contribute to her Legend Novellas series at Random Century, I began thinking more deeply about the conundrum of candor. "Honesty is a good thing," I told myself, "but what if my young son were dying? Wouldn't my first instinct be to spare him the truth?" And so I returned to Veritas, putting the main character through an ordeal far more intense than the one faced by his counterpart in the original story.
Reprinted from Nebula Awards 28
---
WHAT THE CRITICS SAID
"James Morrow's City of Truth is a delightful post-modern romp … a skillful book, mixing comedy and tragedy with an understated social message."
–Kelly Jennings
Northwest Arkansas Times
"The act of lying is not only abhorrent to the citizens of Veritas, it's physically painful. As a result you get a slightly skewed reality, where people read best-sellers like You Can Have Somewhat Better Sexand How to Find a Certain Amount of Inner Peace … The writing is crisp, fast-paced, and nicely visual. The plot is fantastic yet convincingly played out."
–John Betancourt
Amazing Stories
"In addition to its more serious aspects, this is a delightfully funny work, filled with restaurants called No Great Shakes, cars named Functionals or Adequates, and food called murdered cow sandwich. A very refreshing hour's reading, and that's no lie."
–Don D'Ammassa
Science Fiction Chronicle
"The Greeks knew it, and Jonathan Swift exploited it to the hilt: SF and fantasy offer a perfect vehicle for satire. I'm not referring to that gloss of light humor that often passes for the real thing; true satire is the work of a moralist in the grip of savage indignation, and gifted with sharp eyes, tongue, and wit. In the novella City of Truth, James Morrow wields a darkly glittering scalpel."
–Faren Miller
Locus
"Jack Sperry's story is that of one man's struggle to find the balance of hope that lies somewhere between truth and fantasy. Sperry's pain is even more poignant because Morrow handles it so deftly, without false sentimentality. Morrow is a Jonathan Swift for our times, and his City of Truth works on many levels, from wickedly sharp satire to touching tragedy."
–T. W. Knowles II
Starlog
"Morrow is a satirist, and a good one: his vision is piercing, and he shows us his view of the world through a cold, hard lens. The only softness comes from laughter, and the only laughter comes from the pain of self-recognition … You will begin the book by reading passages aloud; you will end it, I think, in quiet communion with another soul."
–Orson Scott Card
Fantasy & Science Fiction